Product Introduction:
Traveling Head Cutting Press Machine
This travelling head cutting press machine can cut below items.
Automotive interior

Abrasives, abrasive paper

Leather and leathergoods – shoe uppers, wallets, purses, belts

Clothing – components for hats, ties, collars, shoulder pads

Cork gaskets and mats

Foam and sponge

Footwear components – shoes, insoles, insole socks, uppers, straps

Rubber – gaskets, seals, washers

Textiles – sample swatches and pattern books, underwear and outerwear components, hats, ties

Toys – soft toys, advertising novelties, mini jig-saw puzzles, etc.
Features:
1. Traveling head cutting press machine is used for the cutting of all kinds of small knife molds for leather,
shoes(sole,insole,shoe-pad,upper of the shoe), cloth, masks, toys, etc. in the industry, and is suitable for large-scale cutting factory operations.
2, Double oil cylinders, precision four-column auto-balancing link structure,which can guarantee uniform cutting depth of each cutting position.
3. The input and output of the material are conveyed on the conveyor belt, and the die cutting of the material is also automatically performed on the conveyor belt.
4. The device with cutting board and fixed mold makes the operation more convenient.
5. Special specifications of the product can be customized.
6.Travelling head can rotate freely in any angle of 360°.
Photos: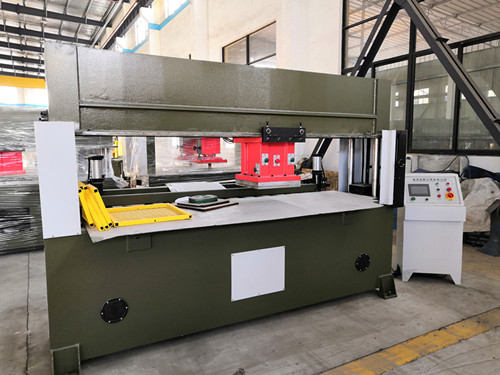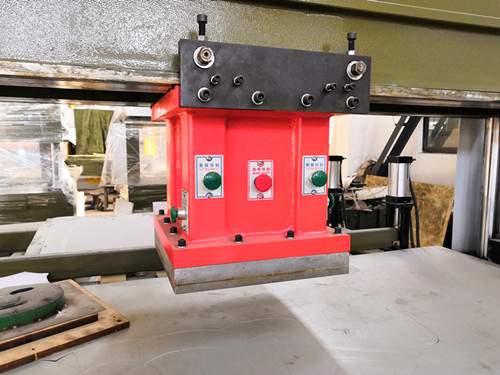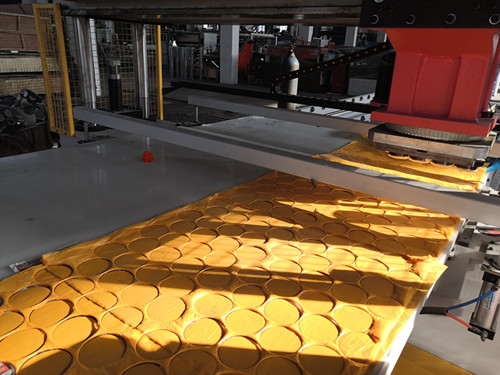 Contact Information